Smart Home Systems
---
"Smart Home" systems have been created to automate houses and offices, provide the maximum comfort of consumers and minimise utility costs. This includes control of lighting and sound systems, heating and ventilation, home appliances, curtains and windows, locking of gates and garage doors, and efficient use of energy. As well as your safety is fully ensured by installing water leakage, gas flow and fire safety sensors.

Using "Smart Home" system, you can manage your home and office anywhere in the world through mobile phones and tablets.¬ Scenarios are created to maximize your comfort and you can initiate the desired process at any time.

One of the most important aspects of the "Smart Home" is to provide easy access to the elderly, the disabled, and those in need of care.
Our company has the opportunity to install "Smart Home" systems in both without repair and renovated apartments. For this purpose, we use the world-wide popular systems working with KNX and Z-Wave protocols.

1. In systems working with KNX protocols, pre-installed cable mounting is required, so you can only choose this option in without repair apartments. It is possible to implement any scenario through this system. High quality worldwide brands as Panasonic, Berker, GIRA are among the equipment we use in our projects.

2. Even if your apartment is fully renovated, we can integrate your apartment into a smart home. For this purpose, the systems working with Z-Wave protocol are used. We work together with the most widely used Fibaro company among the companies working with this particular protocol.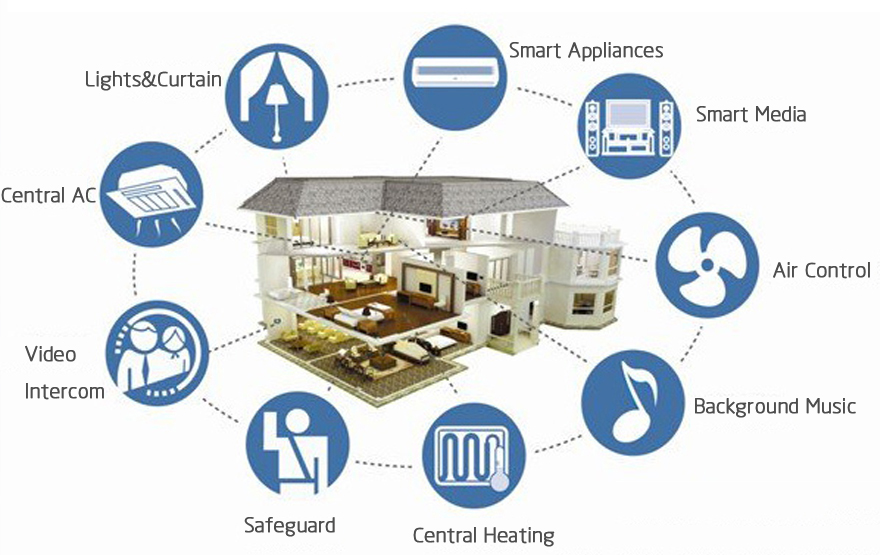 3. Finally, we are proud to present you our own product for smart home control. All of the inside processors and relays are produced in USA and assembled in Baku by our experienced engineers. It can be controlled both locally and through internet from any distance. However, pre-installed cable mounting is required for this product to work. Although the quality of our product is quite comparable to others, the cost is sufficiently low as both hardware and software parts are designed by our own engineers.